In the Birbitt Thinks house we prefer to eat mostly fruits and vegetables and only have cuts of meat 3-4 times a week, and we eat mostly organic food finding really yummy recipes is hard work. Most traditional recipes just don't work out for use very well, because either there's an ingredient that I don't like to use or they aren't hearty enough to create a filling meal with.
As a solution to this problem I scour the internet for delicious recipes that I can use in my own kitchen, well the end result of this has been that I have pages and pages of printed internet recipes that get lost and I have to go back and hunt for them again on the internet, or I have a pile of recipe bookmarks and
Pinterest
pins that I'll never be able to use when I need them because they just aren't organized!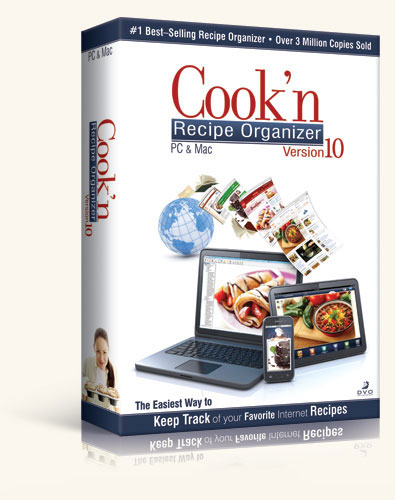 Well, of course I have found a solution and I want to share it with you all! Meet the
Cook'n Recipe Organizer
with this simple download you can not only save, but also organize your favorite internet (and written) recipes! That's right, you can organize all of your recipes with Cook'n! Just look at all the features you get in one simple download:
In addition to all of this
Cook'n Recipe Organizer
comes with a 200% money back guarantee! If you aren't fully satisfied, which I know you will be, then you will get your money back AND Dan Oaks will buy you the recipe software of your choice. How's that for confidence in his product huh?
So let me tell you what
Cook'n
has done for me, I have been able to go through my bookmarks and get all those recipes into the software, organized in a way I'll always be able to find my recipes when I need them, AND generate a shopping list based on selecting the recipes I wish to prepare that week! For this busy mom, the time I have saved using this software has been priceless.
Now I did find a few recipes that didn't capture easily for me, but it wasn't a problem I just entered the recipe manually and it still works great. Seriously this is probably the best software I've ever seen for storing recipes and making the available when needed. When a friend asked me for my recipe for squash au gratin, I was able to easily pull it up in cook'n and click the email button to send it to my friend and the best part is that unlike other recipe software programs I've tried my friend didn't need to have the software to view the recipe!
Now in addition to all of those great features, you also get access to additional cook books that you can purchase, and even get one book free with purchase of the software. Seriously, what could possibly be easier? Now you can
purchase your own copy as a download or on CD for only $79.95
, and that includes EVERYTHING, all future updates, access to all features in the software, and a free cookbook of your choice!
But the best part is that readers of Birbitt Thinks are getting a special deal! If you order your copy of Cook'n after reading this review and use coupon code cookngift you can get 50% off your order! That is HALF-PRICE, now what could be better? Now don't forget to head on over to their
Facebook
page for their weekly giveaways! You can also visit them on
Pinterest
and
Twitter
. Did I mention that Cook'n software would make a great gift for the foodies on your list?
Oh, and because the product is so wonderful, and because I know you are going to love it, and because Mr. Dan Oaks is such an awesome guy ONE lucky reader is going to get their own Cook'n software download for FREE! That's right yet another awesome Birbitt Thinks giveaway, and you won't want to miss this one!
So if you want your own copy enter the rafflecopter below, but if you just can't wait that long well use coupon code cookngift and get yours for half price! If you are entering the giveaway please remember to do all 3 required entries, and for even better chances come back and do the daily entries as well!
a Rafflecopter giveaway
Birbitt Thinks was provided a free copy of Cook'n Software in exchange for this review. I was not required to write a positive review and all opinions expressed are solely my own.